As the warmth of summer gradually gives way to the crisp air of fall, the picturesque towns of Aspen and Snowmass Village come alive with a vibrant array of events that celebrate the unique charm and natural beauty of Colorado's high country. From the enchanting melodies of the Jazz Aspen Snowmass Labor Day Festival to the competitive spirit of Motherload Volleyball and the elegant allure of the Snowmass Wine Festival, late summer in this region offers something for everyone. Let's explore the incredible lineup of events that make Aspen and Snowmass a must-visit destination during this season.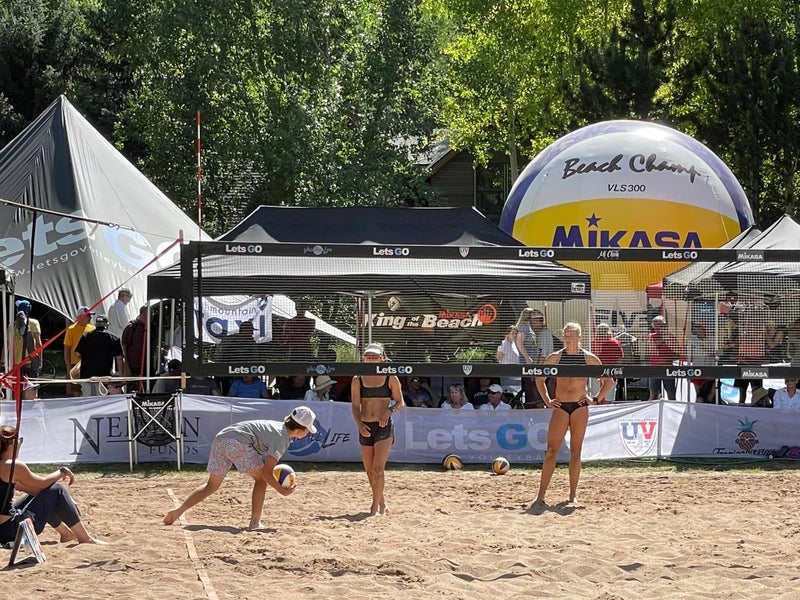 50th Anniversary Motherlode Volleyball Classic: Aspen, Aug 30 - Sept 4 
Aspen's Mother Lode Volleyball Classic has earned its reputation as one of the most prestigious outdoor volleyball tournaments in the United States. Set against the stunning backdrop of the Rocky Mountains, this event draws participants and spectators alike to witness incredible displays of skill and teamwork. Whether you're a seasoned volleyball player or simply appreciate the athleticism and dedication on display, the Mother Lode Volleyball Classic is a thrilling late summer event that shouldn't be missed. More Info: Click here.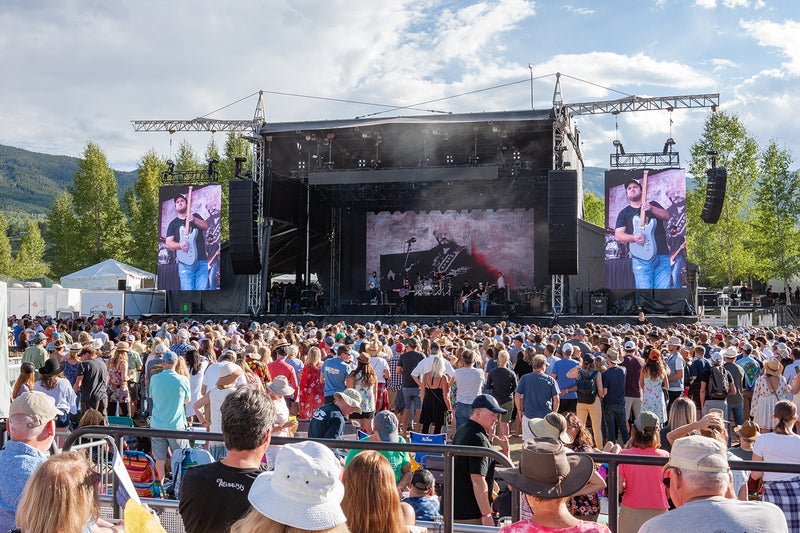 Jazz Aspen Snowmass Labor Day Festival: Sept. 1st - 3rd - Snowmass Town Park
Every year, the Jazz Aspen Snowmass Labor Day Festival transforms the tranquil mountains into a hub of musical energy. Held over Labor Day weekend, this festival is a harmonious fusion of world-class jazz, rock, and pop performances. A stage nestled amidst the stunning mountain landscape sets the backdrop for renowned artists to showcase their talents. The festival not only treats music enthusiasts to captivating performances but also offers a variety of food vendors, artisan markets, and family-friendly activities. It's an event that truly embodies the spirit of late summer, bringing people together in celebration of both music and nature. More Info: Click here.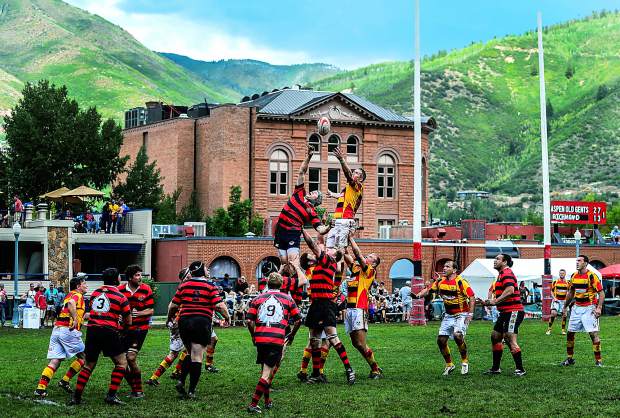 Ruggerfest: Aspen, Sept 14 - 17th 
For those with a penchant for athleticism and camaraderie, Ruggerfest presents an exhilarating spectacle. This event, hosted in Aspen, showcases the competitive and rugged sport of rugby. Teams from across the country gather to partake in fierce matches that captivate both players and spectators. With divisions catering to different skill levels, Ruggerfest is an inclusive event that celebrates sportsmanship and the love of the game. More Info: Click here.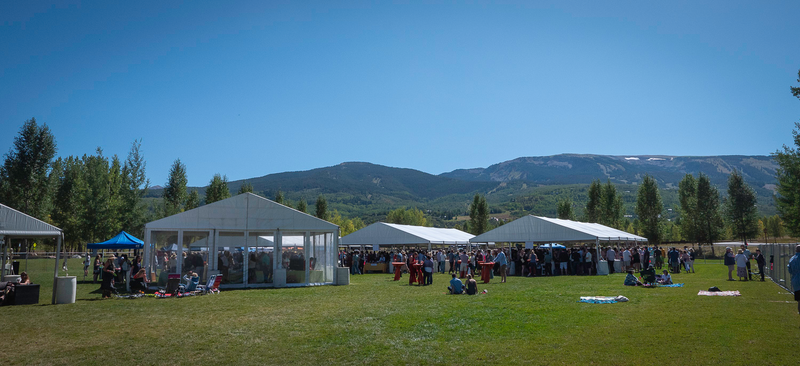 Snowmass Wine Festival: Snowmass Town Park, September 15th - 16th
For those seeking a refined and indulgent experience, the Snowmass Wine Festival offers the perfect blend of elegance and relaxation. According to their website, this two-day event kicks off Friday evening at the Viceroy Snowmass with an incredible reception and four-course wine dinner featuring Washington wines.
The Grand Tasting takes place Saturday afternoon, bringing together a beautiful venue, music, cuisines from local restaurants, and of course, lots of wine. Whether you are an avid wine aficionado or someone who enjoys a glass from time to time, there's something for every attendee to enjoy. More Info: Click here.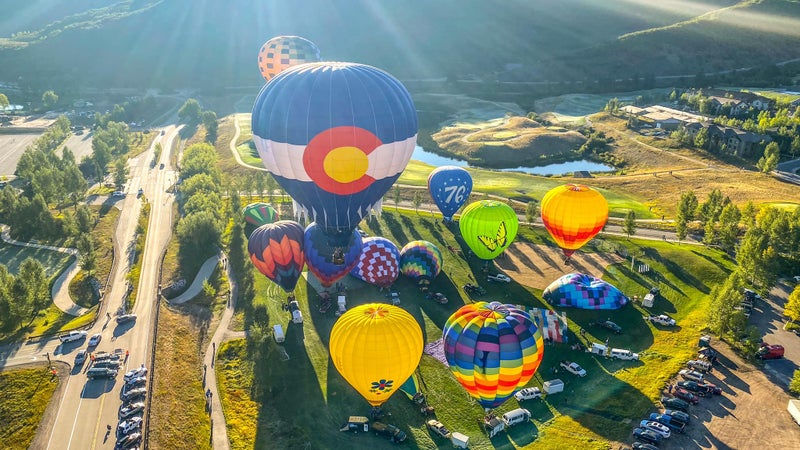 Snowmass Balloon Festival: Snowmass Town Park - Sept. September 23rd - 24th
Imagine waking up to the sight of colorful hot air balloons gracefully soaring against the backdrop of the Aspen-Snowmass region. The Snowmass Balloon Festival is a magical event that turns this dream into reality. The festival features early morning balloon launches that paint the sky with vibrant hues, creating an awe-inspiring scene that's perfect for photographers and nature lovers alike. Balloon enthusiasts can also witness intricate balloon shapes and designs, making this event a true visual spectacle. More Info: Click here.
Available Rentals in September
Here is a hand-picked selection of available rental properties that could be perfect for your September Aspen Snowmass vacation.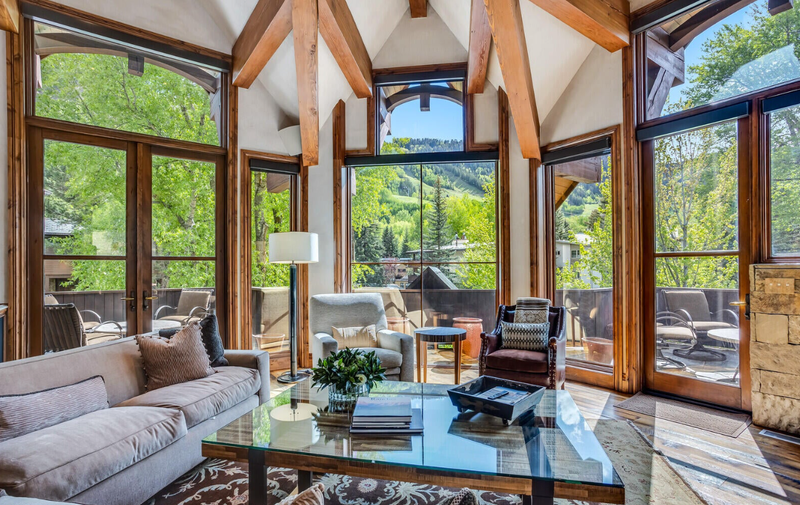 900 Waters | Aspen 
5 Beds | 6 Full, 2 Half Baths | 6,411 SF
This magnificent and timeless Mountain home is situated on a prime corner lot in the heart of the Aspen Core. Only 2 blocks to the Silver Queen Gondola and walking distance to all of the best restaurants, shops & parks. Watch the fireworks on Aspen Mt from the privacy of your living room or step outside and enjoy the panoramic views of Aspen Mountain, Mt Sopris, Smuggler and Red Mountain from one of the many outdoor decks or patios. The home also features oversized ceilings and large closets throughout, a Poker table, wet bar, wine cellar, gym equipment, 3 steam showers, 2 jacuzzi tubs, yard and an outdoor hot tub. It is truly the perfect house for a relaxing mountain vacation or entertaining year-round!
Click to View Images + Rates for 900 Waters Avenue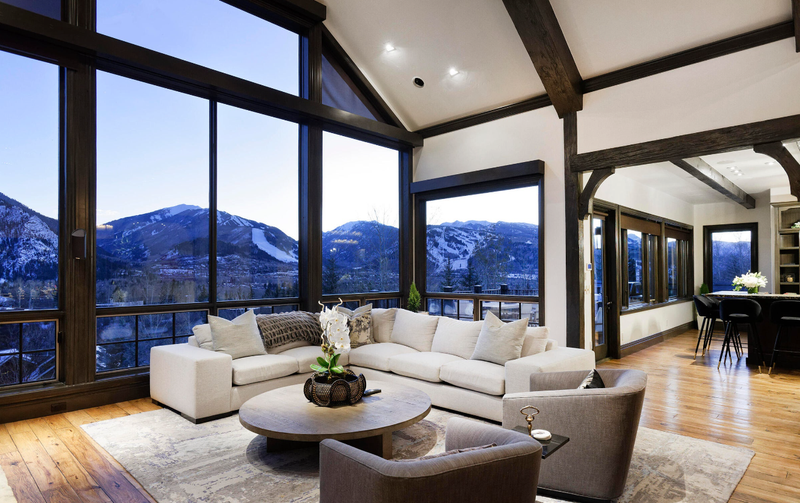 349 Draw Drive | Aspen 
4 Beds | 4 Full, 2 Half Baths | 4,744 SF
Wrap yourself in luxury in this stunning newly updated Red Mountain home with incredible views. The open living concept is perfect for families and entertaining. Amenities include a large deck off the main living area, two car garage, snow-melted driveway, hot tub, elevator, chefs kitchen, radiant heat, luxury finishes, gorgeous designer furniture, high-end appliances, etc, etc, etc. The peaceful outdoor dining area captures views of Aspen Mountain, Aspen Highlands, Maroon Bells, Independence Pass, downvalley sunsets, & beyond.
Click to View Images + Rates for 349 Draw Drive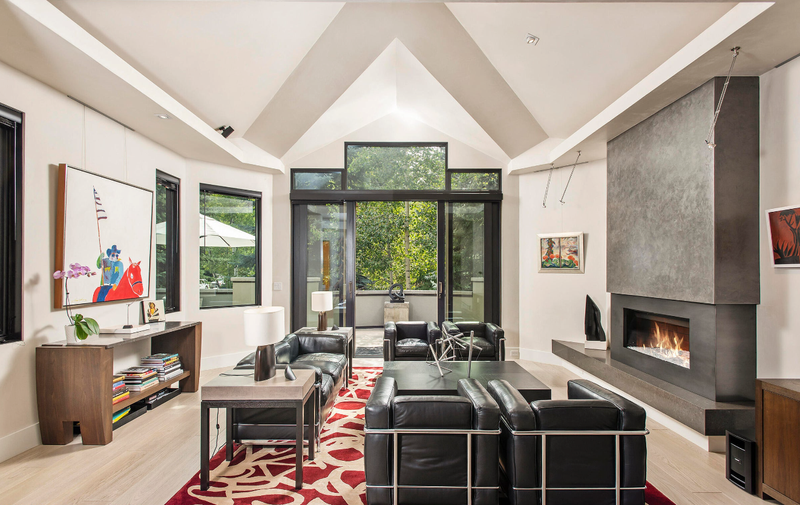 307 N Sixth Street | Aspen 
5+ Beds | 5 Baths | 4,500 SF
West End south facing corner lot home, with great views, available for long term rental. Close to the Aspen Institute, and walking distance to town. West End shuttle is 1 block away. There are 3 en suite bedrooms, with an additional lower level bedroom with lower level bathroom. A fifth main floor en suite bedroom could be configured if necessary. Main Living area features living, dining, kitchen, powder room and the en suite main bedroom. A large south facing deck off of the living room features Aspen and Shadow Mtn. views. Top level has A/C. There are 2 gas fireplaces, one in the living room and 1 in the main upstairs bedroom. A two car attached garage, and laundry room are also featured. Discount offered for multi-month term.
Click to View Images + Rates for 307 N Sixth Street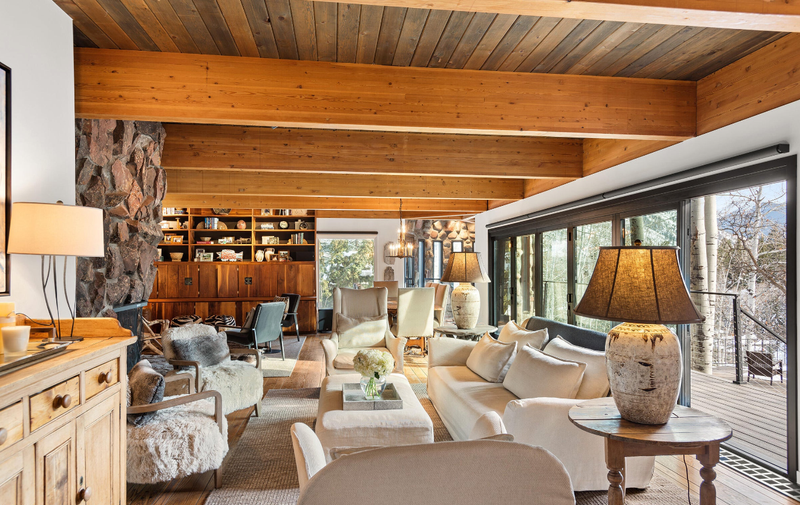 164 Eastwood Drive | Aspen 
4 Beds | 4 Baths | 3,560 SF
Step into this approximately 3,500 square foot home and experience mountain modern at a whole new level. Originally designed as ''The Aspen Studio'', this harmonious home attracted musical artists from LA to NYC to enjoy Aspen and the mountains as they recorded their newest songs. Stunning renovations, completed in 2022 by Hansen Construction, compliment the original exposed wood and river rock stone throughout, an outdoor hot tub, and breathtaking mountain views from Aspen Mountain to Independence Pass. Indulge in the luxurious steam shower, relish the ultimate viewing experience in the media room, and enjoy entertaining all your guests from the beautiful chef's kitchen. 3 A/C Split Units. 1 for each of the 2 bedrooms on the top level and 1 in the living area. The four bedrooms include a custom bunkroom and four bathrooms. The Aspen Core is just 1 mile away from this exceptional Aspen gem. You'll be singing its praises!
Click to View Images + Rates for 164 Eastwood Drive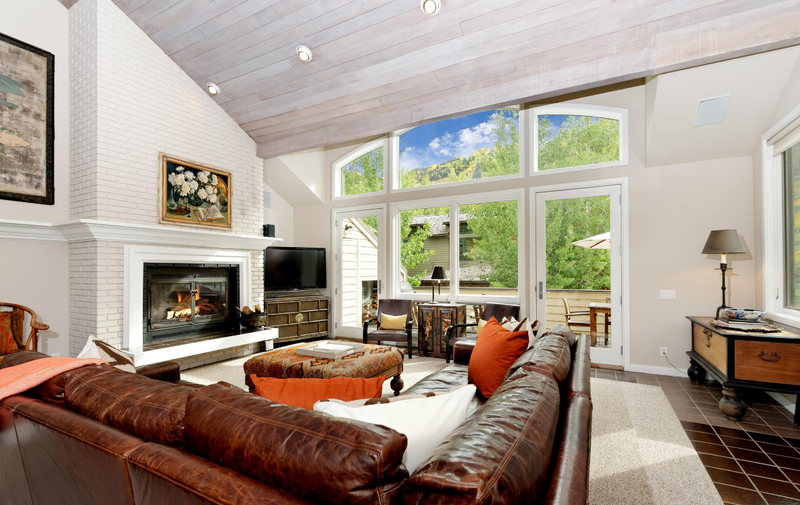 123 W Hyman Avenue | Aspen 
4 Beds | 4 Full, 1 Half Baths | 2,917 SF
Everything you need for a perfectly convenient vacation in Aspen! This duplex truly lives like a single-family home and is walking distance to both downtown and the slopes. It also has large open living spaces throughout, gorgeous views, privacy and beautiful sunsets through the 2 story windows in the living room. The back and side yard offer a peaceful setting to relax and enjoy the Aspen sunshine. The property also has a 1 car garage and AC in the upper floor. Perfect for any group!! Please see supplement remarks for bedroom layouts, amenities, and pricing.
Click to View Images + Rates for 123 W Hyman Avenue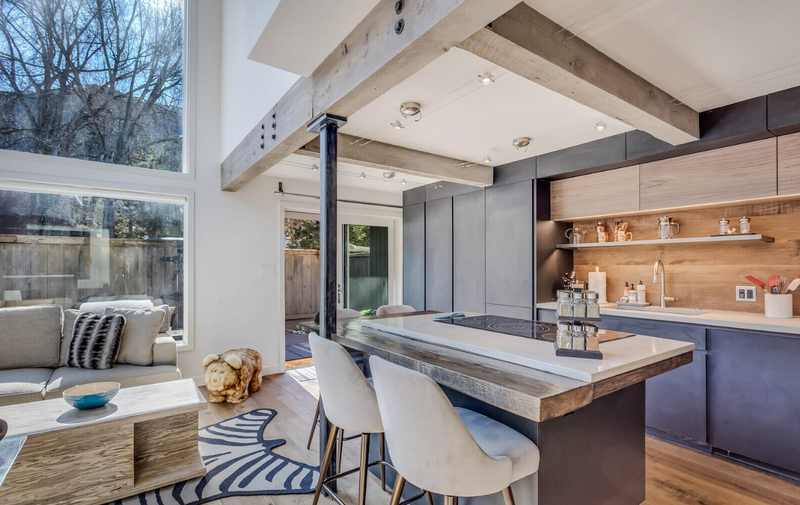 1024 E Cooper Avenue 1A | Aspen 
2 Beds | 2 Baths | 912 SF
This central core mountain contemporary condo boasts gorgeous views of Aspen Mountain and Independence Pass from the expansive windows and vaulted ceilings. The kitchen has been newly renovated and equipped with Thermador appliances, Miele dishwasher, custom Italian wood floors throughout and a gas fireplace in the living room. This corner end unit has one designated parking space, washer and dryer in the unit and a Murphy bed in the bonus third bedroom area off the main bedroom. Split A/C units throughout.
Click to View Images + Rates for 1024 E Cooper Avenue 1A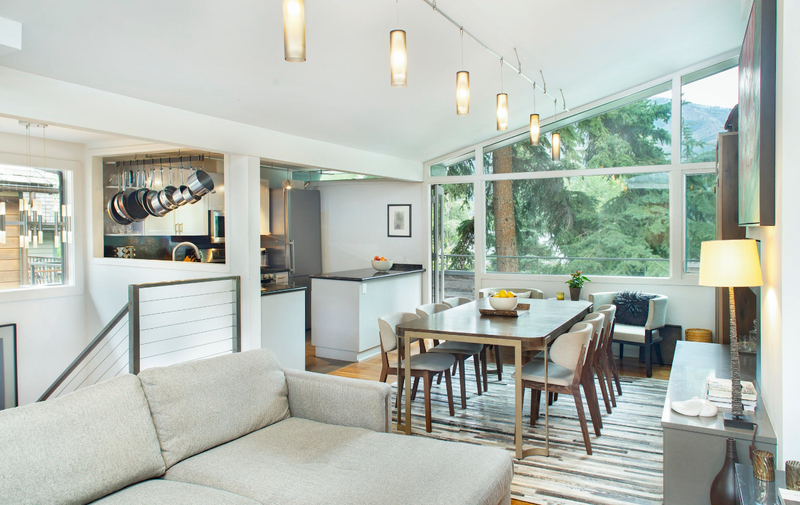 1001 E Cooper Avenue 4 | Aspen 
3 Beds | 3 Baths | 1,580 SF
This Two-story unit offers living with open loft-like feeling and a light filled living space. The high ceilings, skylights and contemporary decor throughout make is the perfect setting to relax and enjoy all that Aspen has to offer. Three bedrooms plus bonus room (could be extra bedroom or office) give plenty of room for any group. The unit also has central A/C, gracious entry hallway, large primary bedroom off living room and gas fireplace.
Click to View Images + Rates for 1001 E Cooper Avenue 4
If you'd like more information about additional rentals available, please reach out to one of our experienced brokers here - Christie's Luxury Agents.