Christie's International Real Estate Aspen Snowmass is a proud sponsor of Andy Warhol: Lifetimes — on view at the AAM
Expanding upon Christie's Americas' dedication to the arts with a pop-up gallery residency in Aspen and the Hamptons last summer, Christie's International Real Estate is also a proud sponsor of one of the most anticipated and lauded exhibitions at the Aspen Art Museum (AAM) to date.
Originally opening on December 3, 2021 and running until March 27, 2022, Andy Warhol: Lifetimes is a museum-wide survey focused on the biographical underpinnings of the elusive artist's practice and specifically expands on the less exposed aspects of his work and persona.
Warhol is virtually synonymous with American popular culture of the late 20th century and remarkably, he continues to inform the contemporary moment from his prescient, uncanny grasp of the drama and consequences of capitalism on the psyche. Also steeped in the vernacular of celebrity, propelled by aspirational consumerism, Warhol tapped into the crux of American culture across new forms of media — showcased on an entire wall of Interview magazine covers and a collection of A-lister photos on the second floor.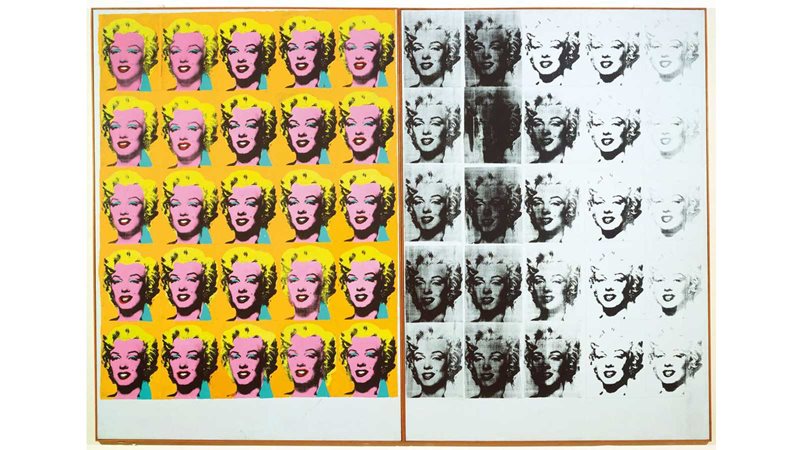 But lesser known bodies of work cast his own queer lens — showcased on the first floor installation through pen-on-paper drawings of male figures from the mid-1950's along with masterpieces like "Camouflage" (1986), "Oxidation Painting" (1978) and the explicit "Sex Parts" photo series. This more intimate portrayal of the artist — who remade America's image to resonate within a queer sensibility — examines the mystique Warhol as an outsider created to engage the self as a cultural phenomena, mirror and decoder.
Following its premiere at Tate Modern in London, and versions at the Museum Ludwig in Cologne and Art Gallery of Toronto, for this iteration, the AAM invited artist Monica Majoli to reconceptualize its staging, utilizing personal artifacts and archival materials alongside artworks. Warhol himself made many fond memories in Aspen, first visiting in 1956, as chronicled by The Aspen Times' Andrew Travers in a recent interview with Denver-based photographer Mark Sink, who was a frequent Colorado companion to the artist in the early 1980's.
Earlier this month, the AAM became the first museum in the state to join more than 60 other iconic cultural institutions around the globe on the Bloomberg Connects app, created by Bloomberg Philanthropies. This mobile AAM guide provides a rich audio supplement to Lifetimes, including clips of artist and exhibition curator Monica Majoli and AAM assistant curator Simone Krug as they explore highlights of the exhibition.
If you haven't had a chance yet to visit the exhibition this winter, there is still plenty of time (and special events) left to explore the wonderful world of Andy Warhol — Lifetimes is truly a "once-in-a-lifetime" experience. 
UPCOMING EVENTS
Public Friday Tours
Ongoing
11 a.m. - 4 p.m.
Free and open to the public
The AAM offers 30-minute tours every Friday for groups with advanced reservations. Get a quick introduction to the unique world of Andy Warhol. The tour traces Warhol's life from his modest upbringing to his start as a commercial artist in New York and his rise as a glamorous art superstar. Registration must be received at least 48 hours in advance of the tour date (available until March 25).
AAM Après Saturdays 
Ongoing
4 p.m. - 8 p.m.
After you hit the slopes, hit the AAM for their new Aprés Saturday series featuring cocktails from The Slippery Slope, snacks from the new Rooftop Café and music from winter resident DJ Golden. Present your membership card and get 10% off at The Slippery Slope and Rooftop Cafe.
IF YOU GO
AAM Hours
Tuesday–Sunday (closed Mondays)
10 a.m. - 6 p.m.
Admission is free, courtesy of Amy and John Phelan.
For the complete AAM calendar of events and most up-to-date information on COVID-19 protocol, please refer to the museum website at aspenartmuseum.org.